How to Pick an Industrial eCommerce Platform
Selecting the right eCommerce platform isn't easy for manufacturers. Some eCommerce platforms are more well-known than others, other platforms are open source or free, but not all platforms have the capacity that manufacturers need.
Plenty of eCommerce platforms don't satisfy business needs despite their immense popularity. The majority of eCommerce systems lack the capabilities that discrete manufacturers need because they were initially engineered for B2C brands rather than B2B manufacturers. To help you make a more informed decision, here are nine criteria every manufacturer should consider when evaluating an eCommerce platform.
The nine criteria to choose the best Industrial eCommerce Platform:
1. Experience in your space
Experience in your industry is the most important element to consider when selecting an eCommerce platform for your company. ECommerce caters to a wide range of businesses in multiple industries. In the industrial sector, choosing an eCommerce platform that is built by engineers has several significant advantages.
The people behind your eCommerce platform must be familiar with your product categories, your customers, and their purchasing processes so that the technology effectively aligns and caters to their requirements. The eCommerce platform should already work for your industry so that the software vendor doesn't require any education about who you serve and what you sell. They should already have the technical skills and knowledge to handle the complexity of your business requirements.
2. Search

Excellent search capabilities such as search and filtering, taxonomy, and ease of navigation, are important criteria that must be included in an eCommerce platform for manufacturers.
Remember that your customers are looking for industrial products, which means technical parts and technical terms. The eCommerce platform you choose must direct searchers to the right products as quickly and as easily as possible.
In other words, your eCommerce platform must accommodate how your customers look for products, whether that's by product name, part number, or with a technical description of the product.
3. Speed
Speed is one of the main factors influencing the user experience (UX). Of course, no one wants a slow-loading page—eCommerce without speed delivers a poor UX. Slow pages also hurt your SEO, negatively impacting your online exposure. Choose an eCommerce platform that prioritizes and offers speed.
Some eCommerce platforms rely on information from a slower ERP infrastructure. Some pages, which are larger than 1 MB, load in chunks.
The best example of an eCommerce platform with speed is KYKLO, which performs better than other platforms in technical SEO. It also has the quickest engine available, and consists of 5 million SKUs, and 17 million URLs. KYKLO responds in nine milliseconds as opposed to the average four to eight seconds of other commercial eCommerce platforms.
---
Discover how you can stand out from the crowd.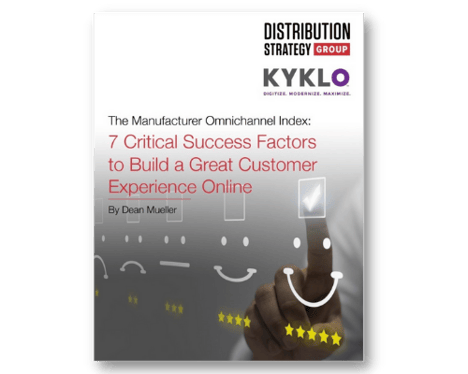 The hesitation to digitize is holding back many manufacturers' potential for providing a great customer experience (CX) online. Whether your top goal is a shopping or a transaction site, the essence of a good customer experience requires content to be on point or you risk losing your customers to competition.
In this report, we dive into the components that determine the Online Customer Experience by analyzing over 110 of the largest manufacturers in the electrical and automation sector. You'll discover how many manufacturers fall into the "good to great" category, but also examples of what an exceptional customer experience looks like.
---
4. Security
In the modern world, security is a key topic given how quickly technology and cyber attacks are developing. Security flaws are frequently present during installation, so pick an industrial eCommerce platform that addresses all security aspects to avoid making the same mistakes as other organizations.
Some manufacturers lack knowledge about security, especially online, which creates holes in protection and increases the risk of attacks. Your level of security is partly dependent on your hosting, so choose a provider that offers military-grade security. Choose an eCommerce platform that lets you cover all areas of security, safeguards credentials, and adheres to compliance requirements.
5. Ease and Speed of Implementation
Ease and speed of implementation should be a top priority in picking an eCommerce platform for all of your company's products and services. For most eCommerce platforms to get up and running, you must have several dedicated employees to manage the implementation. For many industrial companies, this means hiring extra staff to exclusively handle eCommerce or taking existing staff away from their core responsibilities.
Some manufacturers try for years to implement their eCommerce platforms, but fail. On the other hand, with easy-to-implement eCommerce solutions like KYKLO, you just need one staff member's time for 12 hours over six months to utilize the eCommerce solution and take advantage of its benefits.
6. Capabilities and Features
Pick an industrial eCommerce platform with specialized features and capabilities that are beneficial in the manufacturing sector. Focus on platforms with capabilities and features that enable customers to quickly search for and find the products and services they need, going beyond boilerplate functionality.
For example, product selectors and configurators need to be designed for your market, your products, and, most importantly, for how buyers search. Your eCommerce solution should include capabilities specific to manufacturing and tax automation that are in line with your company's processes and offerings.
Pick an industrial eCommerce platform that lets you add:
PO numbers

Remarks to orders

Payment types


Example of KYKLO cart checkout: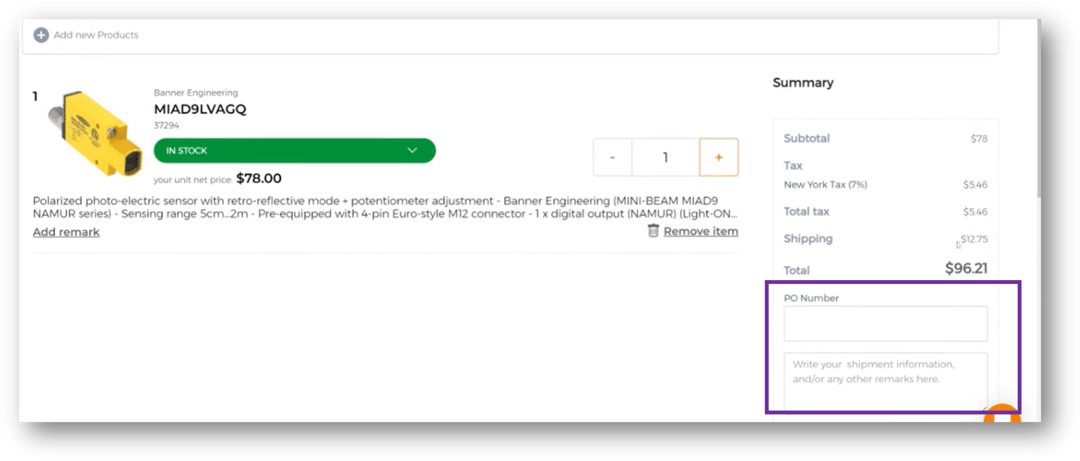 7. Support
Choose an industrial eCommerce platform that provides excellent support—for both you and the customer. When there are questions, some platforms require you to open a ticket and go through a series of steps, which takes too long and hurts both the quality of your service and your customer's experience.
Instead, pick a platform that has a dedicated support team available at all times, who are knowledgeable about your area of expertise and industry, and who can address any issues.
At KYKLO, we have a customer success team and dedicated customer success managers who are well-versed in the industrial sector. We have a support team that is familiar with you, responds immediately, offers white glove treatment, and resolves over 98% of issues promptly.
8. Integration
Pick an eCommerce platform that has a high rate of eCommerce integration to help link all of your company's systems together.
KYKLO is a top-of-the-line eCommerce platform that offers direct integration with leading ERP systems and other platforms, such as Salesforce, SAP Ariba, and other business tools specialized for the manufacturing industry. Given Choose an eCommerce solution that easily integrates with all of your office systems, saving you up to two hours or more per order, and requiring no re-keying.
9. Cost
Large manufacturers are willing to spend significantly on an eCommerce platform, but they fear the expense of integration and implementation. The purchase price of the platform is one variable, but the cost of implementation, followed by complexity and time of implementation, are unknowns.
Smaller businesses are more concerned about the initial cost of a platform, since manufacturers and distributors are usually project-based, unaccustomed to paying monthly subscriptions, habituated to lump sum payments, and unsure of how much to budget.
As a result, many manufacturing companies go to open-source, free platforms, such as Magento. Magento is not SaaS, and it is ultimately not free because it requires staff and resources to operate—resulting in more expenses. KYKLO, on the other hand, is an eCommerce platform that enables you to get a solution for a fraction of the cost of other platforms. KYKLO works around your budget, helping you save money on operating expenses while achieving your business goals.
Mistakes to Avoid
As you create your shortlist of eCommerce platforms, consider these common mistakes that manufacturers make—and avoid them.
Choosing a web agency that offers a single or custom solution only

Choosing a solution that offers limited customization features

Focusing too much on GUI and relatively insignificant issues and not enough on functionality and the core

Picking a purely B2C platform that can't handle your volume of SKUs, the quantity of data, and your product list

Choosing a platform that can't easily and cost-effectively integrate with your other systems

Buying a solution from a vendor that doesn't have expertise in the industrial sector


---
Try KYKLO's eSOM today
Getting caught up in the surplus of e-commerce options can be overwhelming. Choosing an e-commerce platform tailored explicitly to B2B manufacturing makes a huge difference in your business' efficiency, sales, and customer satisfaction.
For manufacturers looking for a comprehensive solution that integrates with their ERP, PIM, and CRM systems, KYKLO is the perfect solution.
---
The Bottom Line
You must select an industrial eCommerce platform based on how well it supports your company's objectives and delivers an exceptional customer experience. Choose an eCommerce platform from a vendor that specializes in the industrial sector and offers experience in engineering with features that are specific to the manufacturing industry. Finally, choose a platform that provides excellent technical and customer support, and offers complete security features to guarantee that your business is adhering to the necessary standards and regulations for safe and legal operation.
Given how important it is to have the right eCommerce for your manufacturing company, you must work with a trusted and reliable eCommerce platform.
KYKLO is a top-ranked eCommerce platform that specializes in the industrial sector and helps you grow your digital sales and engagement. Schedule a demo today and learn more about how we provide you with solutions that meet all of your business needs.
Contact Us!
Optimize, Improve, Grow your business starting today.